2017-10-19
ThecusOS 7.0 enhanced with Scale-Out functionality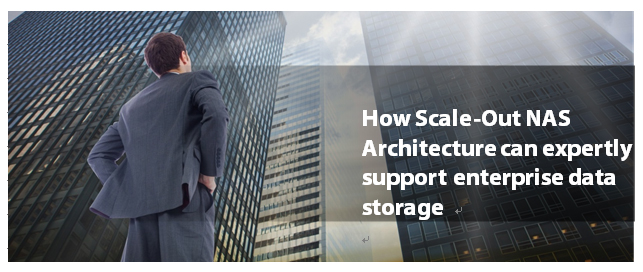 10/19/2017-
When deciding on a data storage solution for your business, the most fundamental criteria is capacity, quickly followed by what happens when you need to add more capacity. There is a lot of discussion in the storage industry in regard to "scale-up" versus "scale-out" architectures; Thecus is catering to all needs and allows for both concepts to be utilized.
Traditional Scale-Up Architecture
Scale-up architecture has long been the industry standard for storage. This consists of having a NAS with a limited number of bays for drives. When you run out of space, you add additional drives. Upon reaching the system's full capacity, the business will then have to purchase a new NAS and transfer their data to the larger system. This upgrade causes service interruption, takes time to reset and involves higher purchase costs for a device with more bays plus you might still need to Scale-Up again to even more bays in the future if your business grows more and capacity is reached again.

Unlike traditional storage, Scale-Out architecture prevents the need of service interruption, enabling a business to simply add on additional systems when capacity has been reached.
Thecus Scale-Out Architecture
Thecus' Scale-Out function allows for the volume capacity of a NAS infrastructure to be expanded dynamically across numerous independent Thecus NAS systems in the same network subnet. The architecture is specifically designed to scale storage capacity, essentially without limit, allowing for easy expansion without service interruption and abundant hardware investments.

Unlimited Capacity
Expansion using the Thecus Scale-out function can be as minimal as to use only a single disk or as extensive as adding several NAS devices to a Scale-Out storage compound, easily and without service interruption.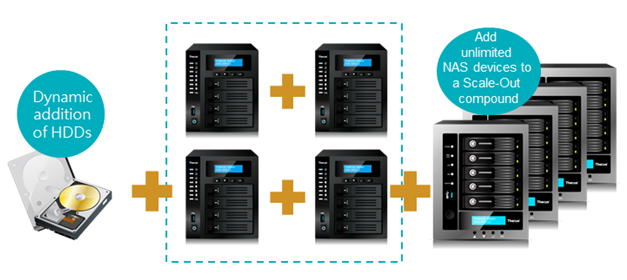 Auto Repair. Auto Backup
The scale-out system is able to work and repair itself smartly through Auto Management features. For example, should any storage "brick" from a volume group be damaged, the system has the capability to automatically use an unused brick to repair it. This allows for a reduction in time needed for maintenance and increased reliability.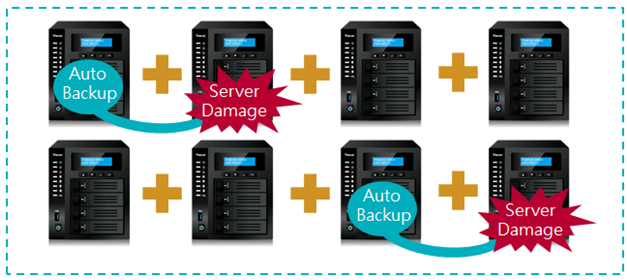 High levels of redundancy and Security
Even if a NAS in a storage compound goes offline, data will still be available due to an intelligent algorithm that distributes copies of the data across the devices automatically. Users are able to nominate how many replicas of the data are created. Through this, Scale-Out offers high levels of redundancy and security that is similar to a RAID system for most business applications while being easier to maintain and expand.
Price. Price. Price.
With use of Scale-Out, businesses can avoid costly revamps from scratch to their data centers by simply adding additional NAS devices. The initial expenditure can be more modest as management will not have to purchase a large new unit while minimizing any disruptions through the upgrade process. With more foreseeable cash flows for data storage expansion, the business can utilize freed up cash for other critical projects and prioritize expenditures more flexibly.
As data storage needs grow exponentially across all industries, it is vital for management to carefully consider the options between Scale-Out and Scale-Up architectures. If a company is dealing with tremendous amounts of storage, the scalability that Thecus Scale-Out storage provides can mitigate costs, complexity and resource allocation.
Thecus will be releasing the second generation of Scale-Out later this year. Thecus Scale-Out 2.0 will bring forth a faster operational flow and will not need a master RAID to mount its storage pool. To ensure all hardware requirements are met, it will be first implemented on the x910 series (N16910SAS, N12910SAS, N12910, N8910.)
---
Thecus® について
2004年に創立されたThecus Technology Corp.はグローバルにネットワークストレージ(NAS)とネットワークビデオレコー ダー(NVR)ソリューションを展開する会社で、家庭用から業務用までの幅広い層に対し、外付け及びクラウドベースでのデジタ ルデータの保存、管理、アクセスの支援をします。Thecus は、最先端の技術の導入、ユーザーが使いやすいプラットフォーム のデザイン、高いパフォーマンスと強固なセキュリティの提供を目指しています。2016 年 5 月に Thecus は Ennoconn Corporationに買収され、正式にFoxconn IPC Technology groupの一員となりました。幅広い企業群と共にパート ナーを組むことにより、トータルなIoT (Internet of Things) ソリューションを提供します。現在、Thecusは他に類をみな い協業体制により、ネットワークストレージ産業に新たな前例のない変化を起こしてゆきます。
販売に関するお問い合わせは、こちらからご連絡ください。sales@thecus.com
マーケティングに関するお問い合わせは、こちらからご連絡ください。marketing@thecus.com